Important Information About Your CCFlex Benny Card
Same great card, great NEW look!
We are excited to announce that our card is getting a new look! Starting January 2021, as your current card is set to expire, you will automatically receive the CCFlex Benny Card at your home address for you and your family members to use. The card will arrive in a special envelope that looks like this – so please don't throw it out!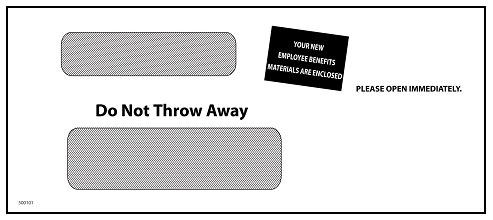 As a reminder, your CCFlex Benny Card is loaded with the value of your current FSA, HSA, or HRA balance. Using your card helps you keep cash in your wallet and makes accessing your HSA funds easy. The card can be used, instead of cash, to pay for qualified health care expenses such as:
Prescription and health plan copayments, deductibles, and coinsurance
"Amount Due" on medical and dental statements
Orthodontics
Mail-order or online prescription invoices
Vision services and eyeglasses
LASIK surgery
Eligible over-the-counter (OTC) items
You'll simply swipe your card each time you incur a qualified health care expense and the amount of your purchase will be deducted from your FSA, HSA, or HRA – automatically. You can also fill in your card number on bills you receive from providers to pay the amount you owe. You'll have no claim forms to complete and you won't have to wait to get a check in the mail. You can check balances or account details anytime – online or via the mobile app. It's easy!
Remember, the card will not work at gas stations or restaurants – only at health care related providers.
Your CCFlex Benny Card will definitely improve your cash flow. However, be aware that the IRS requires the card be used only for eligible expenses. Most of the time, we can verify the eligibility of the expense automatically. Yet, there are instances when you'll receive a letter/notification asking you to furnish an itemized receipt to verify the expense. When you receive such a request, make sure you submit the receipts as soon as possible to avoid having your card suspended until receipts have been submitted and approved.
An itemized receipt must include the following:
Merchant or provider name
Services received or item purchased
Date of Service
Amount of the expense
Cancelled checks, handwritten receipts, card transaction receipts or previous balance receipts cannot be used to verify an expense.
Look for additional information about how to use your new CCFlex Benny Card included with your card packet in the mail. We hope you enjoy this new and exciting feature of your FSA, HSA, or HRA!